Thinking About Joining The OCC?
The creation of the Oakville Centre For Counselling is near and dear to our hearts. It is important to us to offer a warm and inviting professional space where therapists and practitioners can find a sense of community in the often-isolating environment of private practice. We want to bring therapists and other allied health professionals together in a space that offers the opportunity to connect and collaborate with one-another. Our vision is to build an in-house referral network of skilled practitioners to meet the varying needs of clients, all under one roof.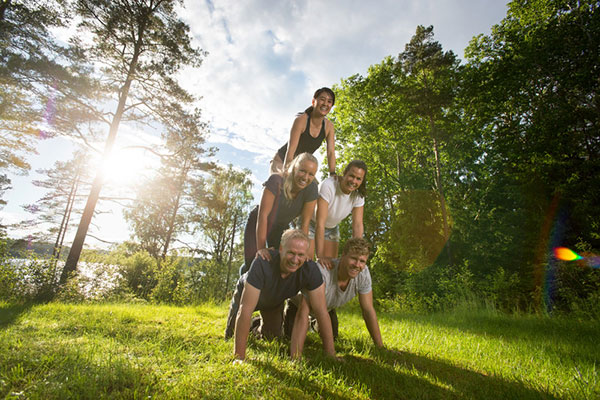 While renting with us you can expect to feel welcomed into our space and supported in your private practice venture, whether you have a seasoned practice or you are just getting started! We understand that each therapist and practitioner will join us with varying needs in mind and this is why we have built an affordable rental package that honors the requirements of running a private practice. All part-time (one, two and three day) rentals allow for full day usage of an office so that one can plan their day with the flexibility required. We provide an opportunity for all therapists and practitioners to be listed on the OCC website which will help grow one's online presence with increased visibility and links back to one's own website (if you have one) and social media pages. Peer supervision will be offered as it is a fabulous way to meet the other therapists in our space, get to know each others practice, receive support clinically, and of course to increase one's opportunity to receive in house referrals from peers. We hope that our above offerings express just how much thought and enthusiasm has gone into the creation of the OCC as we truly want to be the place you call home to your clients and business.
To learn even more about the space please have a look below at our Rental Options, as well as our FAQ section to answer any additional questions you may have.
Rental options
The OCC houses seven fully renovated offices with a large waiting room where clients can help themselves to a glass of water or cup of tea as they wait for their appointment. Our office is located on the second floor of a lovely and warm professional/medical building. Our location is conveniently located just south of the QEW (Dorval and Speers Rd.). When you arrive, you will see a large parking lot out front with free parking available to all and is well lit in the evenings. The building is accessible, including push-button front door access and an elevator to our floor (some doors are without push-button access inside the building).
Our flexible rental options include one, two and three day-a-week selections with full day access (8am-9pm) on each day rented. As you increase your number of days rented, you can expect a reduction in the daily rental fee. Full-time rentals are offered based on availability.
Rentals include:
Turnkey – Our space is available for you to set up shop ASAP.
All amenities included: WiFi, cleaning services, newly furnished offices designed with our professional needs in mind, a kitchenette for your use (with coffee maker and coffee, microwave and mini fridge), tissues in all offices and waiting rooms, and tea available in the waiting room.
Monthly peer supervision group
Feature on our website dedicated to promoting the OCC within the community and to other referring professionals.
In addition, the 3-day-a-week rentals include access to an in-office filing cabinet. As well, access to the boardroom (18 seats, projector, screen and small prep room with kitchenette) on any of your rental's days upon availability.
We encourage you to be in touch with any questions left unanswered and if you would like to inquire more about availability and pricing at the OCC.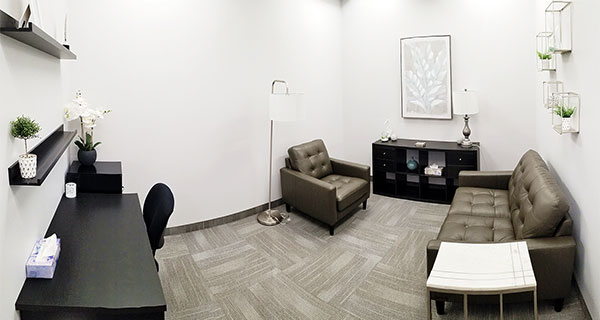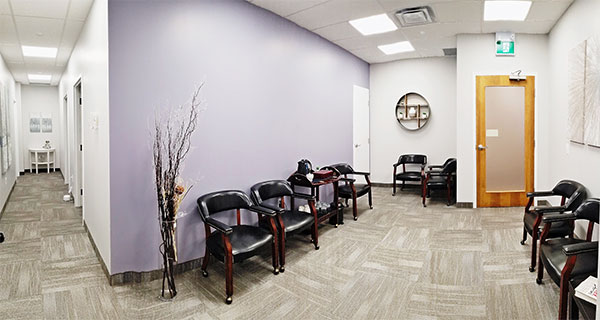 What are the office hours?
The office hours of the OCC are 8 am to 9 pm, 7 days a week. The front doors of the building are unlocked during these same hours except on Saturdays (doors lock at 4pm) and Sundays when the doors are locked all day. This means that therapists will need communicate with clients to let them in once they arrive for their appointment if working Sundays or if you have an early morning client appointment. All therapists will receive a key card for entry outside of the building hours should they need.
Is there a receptionist on site?
There is a large waiting room for clients to use while they wait for their appointment and they can help themselves to a cup of tea should they desire. There is no receptionist on staff, as such therapists are responsible to create their own bookings and greet their clients.
Do I have to pay a portion of my session fees?
No, Therapists in our space do not pay a portion on their session fee. There is a fee to lease per month, which is all inclusive.
Do I get a filing cabinet?
3-day-a-week rentals do have access to an in-office filing cabinet where they can store files. All rental options have access to a desk drawer and basket on a bookshelf in which they can keep their belongings.
Can I share an office with another colleague?
Each therapist has a separate lease agreement for the days they request to rent. For example, if a therapist would like to work Monday and Tuesday, they would lease an office for those two days each week/month and would be the only one with access to the office room on those days.
How often can I use the boardroom?
Full time and 3-day-a-week rentals can use the boardroom to run groups any day of the week based on availability. We request that counsellors limit themselves to run one group at a time.
Who else in the building?
There is a variety of professional offices in the building, including Thrive Counselling, a tutoring centre, a medical office and pharmacy, lab, accounting firm and a psychiatrist office.
Can I bring my own furniture?
Full-time renters are required to furnish your office with your own furniture and accessories. All part-time offices are newly and fully furnished to accommodate seating for a minimum of four individuals. Additional chairs are available if needed.
Oakville Centre for Counselling
465 Morden Rd. Unit 206 (Second Floor),
Oakville, ON, L6K 3R9